Apply Now! : Tallinn x Tohoku Global E-Designer Program
We are recruiting participants of Tallinn x Tohoku Global E-Designer Program!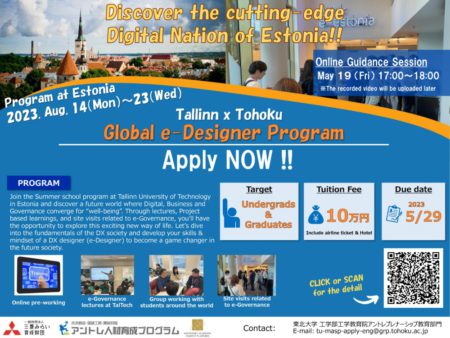 This program is a DX talent development program conducted in collaboration with Tallinn University of Technology in Estonia. Participants will attend the local program of e-Governance (administrative and social reform using digital technology) conducted at Tallinn University of Technology and learn various ways of thinking (mindsets) to design a digital society through lectures and practical exercises. 
Let's take a peek at the essence of a true DX society that transforms the very structure of society using digital technology and take the first step towards becoming a leader in the DX society!

For the details and application, please visit the program website.
---
Program Period in Estonia
Aug. 14 (Mon)~23(Wed),2023
Requirements for application
👉Undergraduate and graduate students enrolled in MASP participating universities
(Tohoku University, Hirosaki University, Akita University, Iwate University, Miyagi University, Yamagata University, Fukushima University, Aizu University, Niigata University, Nagaoka Institute of Technology)
👉Any undergraduate or graduate major is acceptable. This program is open to those who are not specialized in computers or IT-related fields (including those in humanities majors).
Target
👉 Interested in venture companies, entrepreneurs, etc. in the future!
👉 Interested in the world's most advanced DX and digital society!
👉 Interested in creating services using IT and IoT and solving social issues!
👉 Interested in the organization and administration of the next-generation society!
Costs
Participation fee : 100,000 yen (including airfare between Tokyo and Tallinn, local accommodation, and program participation fees)
The participation fee will be collected from participants before departure.
Other self-pay costs: Round-trip transportation expenses to Tokyo (airport), overseas travel insurance, food expenses at the destination, visa acquisition expenses (for international students, etc.)
Online Guidance
May 19 (Fri) 17:00~18:00(via Zoom)※The recorded video will be uploaded later
Registration:https://forms.gle/EiBgUZydUwuBki7KA
Application
Due Date: May 29, 2023
Application Form:https://forms.gle/bzQSTcCgB6DxLD1q9
Contact
東北大学工学部工学教育院アントレプレナーシップ教育部門
E-mail: tu-masp-apply-eng@grp.tohoku.ac.jp